Annual Technology Showcase
Custer's Annual Technology Showcase Unveils Latest Workplace Solutions
Today's work environment is constantly changing and the way organizations integrate technology into the workplace is evolving every day. Custer Inc. provided local companies with behind-the-scenes look at the latest innovative workplace technology products and solutions during its 6th Annual Technology Showcase on Thursday, April 27.
Custer hosted 15 technology companies from across Michigan and beyond to demonstrate the latest in workplace technology products and solutions. Companies represented at the event included Steelcase, Microsoft, Crestron, Polycom, StarLeaf, Planar, Panasonic, Epson, Da-Lite, Chief, Almo Pro AV, Keywest, Newline, Barco and Shure. This annual event highlights technology solutions for corporate, small business, healthcare and education markets.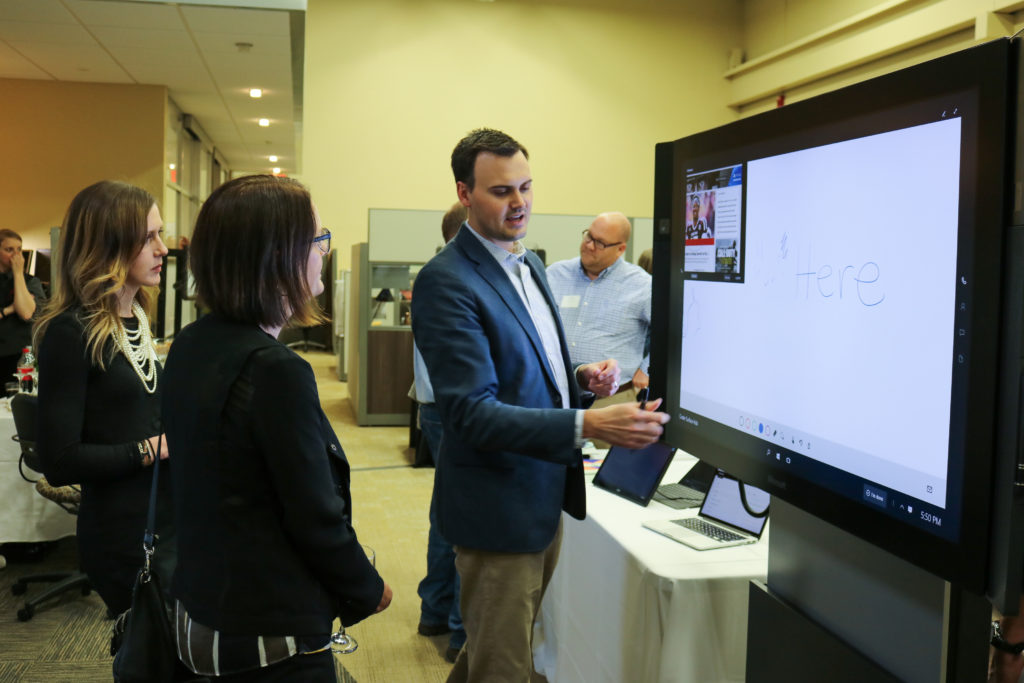 "At Custer, we are committed to making sure our clients across all industries have access to the latest workplace technology that boosts productivity, collaboration and efficiency," said Trent Gooding, Vice President of Technology at Custer. "We believe technology, when applied well, empowers companies and their employees to do their best work, and the products at this year's showcase will help companies maximize their workflow and create a more collaborative workplace."
The event featured the latest in space occupancy and utilization monitoring, furniture and technology integrated solutions, digital signage, video conferencing, wireless content sharing and more. Participants also had the opportunity to get a hands-on experience with several new products including the Microsoft Surface Hub
"We are excited to learn about new technologies at Custer's technology showcase, and about the opportunity to get an inside look at where the workplace is heading in the future," said Benjamin Pease, Audiovisual Manager for Frederik Meijer Gardens & Sculpture Park. "Custer has helped integrate some of the latest technology into our facility so we can continue to provide a positive experience for our employees and guests."
WZZM 13 visited the showcase to explore the new solutions.
Custer offers full-service solutions including design, interior construction, integrated technology and furniture, and works with customers in corporate, education and healthcare industries. Learn more about Custer at custerinc.com.
Questions? Contact our PR team.