In 2019, we expanded our business into the Fort Wayne market, and in 2020, moved into the newly renovated facility at 104 West Superior Street in Fort Wayne's bustling downtown area.
The new customer-facing showroom, nestled between Promenade Park and The Landing, is at street level inside the newly renovated Superior Lofts building.
Custer began construction in the new 5,000-square-foot space in late January of 2020.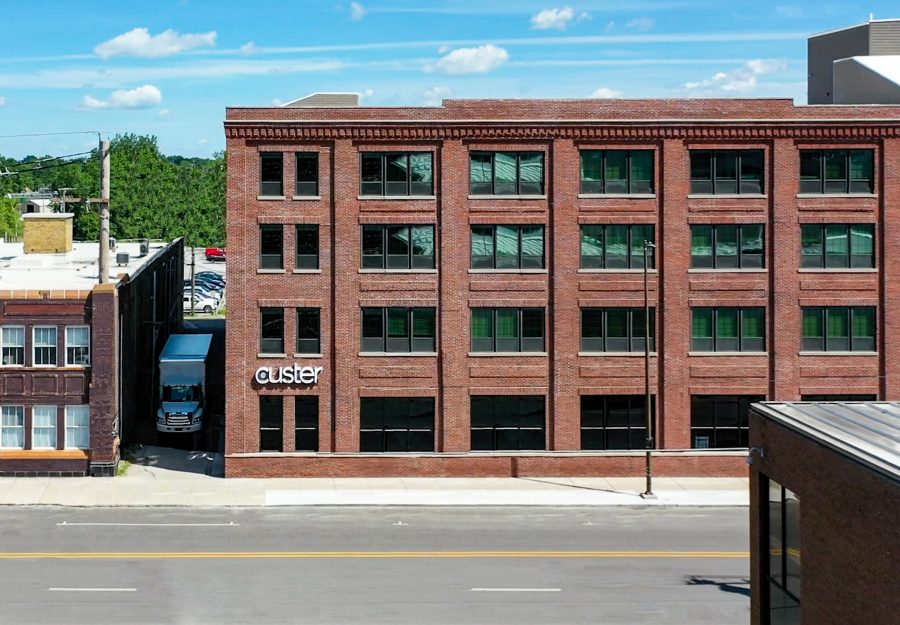 Today, our downtown Fort Wayne showroom is home to our Northeast Indiana sales, design, and operations teams.
Corporate
Healthcare
Higher education
K-12 education
Small businesses
When you choose Custer as your workplace interiors partner, whether updating your current workplace or creating a one-of-a-kind space in a new location, you'll discover the true potential of not just your space, but your workforce, as well. Our team will be with you every step of the way, and our installation team will even help store excess furniture or inventory, so it's ready when you need it.
Is your business making the most of its space – optimizing real estate and providing employees with opportunities to collaborate efficiently and productively? If you find yourself answering "no" or even hesitating to answer "yes", Custer's team of forward-thinking design and technology experts is here to help.
Implementing the latest workplace design trends from a collection of hundreds of vendors allows us to support our customers' unique needs, no matter the project scope or budget.
At our Fort Wayne showroom, our team of experts will work with you to understand your interior needs. Through a tailored, interactive process, we take the time to listen before recommending solutions –building an integrated strategy to align your organization's visions along the way.
Our design library will help inspire in-person discussions about suggested fit, finishes, colors, and textures that are selected by you. When it comes to your workplace technology needs, our workplace strategy and consulting teams are experienced in delivering the modern touches allowing you to choose how you connect, and the ability to control your space. We view ourselves as true partners, incorporating your feedback to craft unique spaces, custom-build furnishings, and help familiarize everyone with the full capabilities of your new space.
Schedule a showroom tour
Custer
104 W. Superior, St. Suite A, Fort Wayne, IN 46802
Phone: 260.423.3482
Email: hello@custerinc.com
Hours of Operation: Monday – Friday 8AM-5PM EST