Custer's Takeaways from NeoCon 2022
Highlights from NeoCon 2022
Written by 

Nikki Nordfjord

on Jun 30, 2022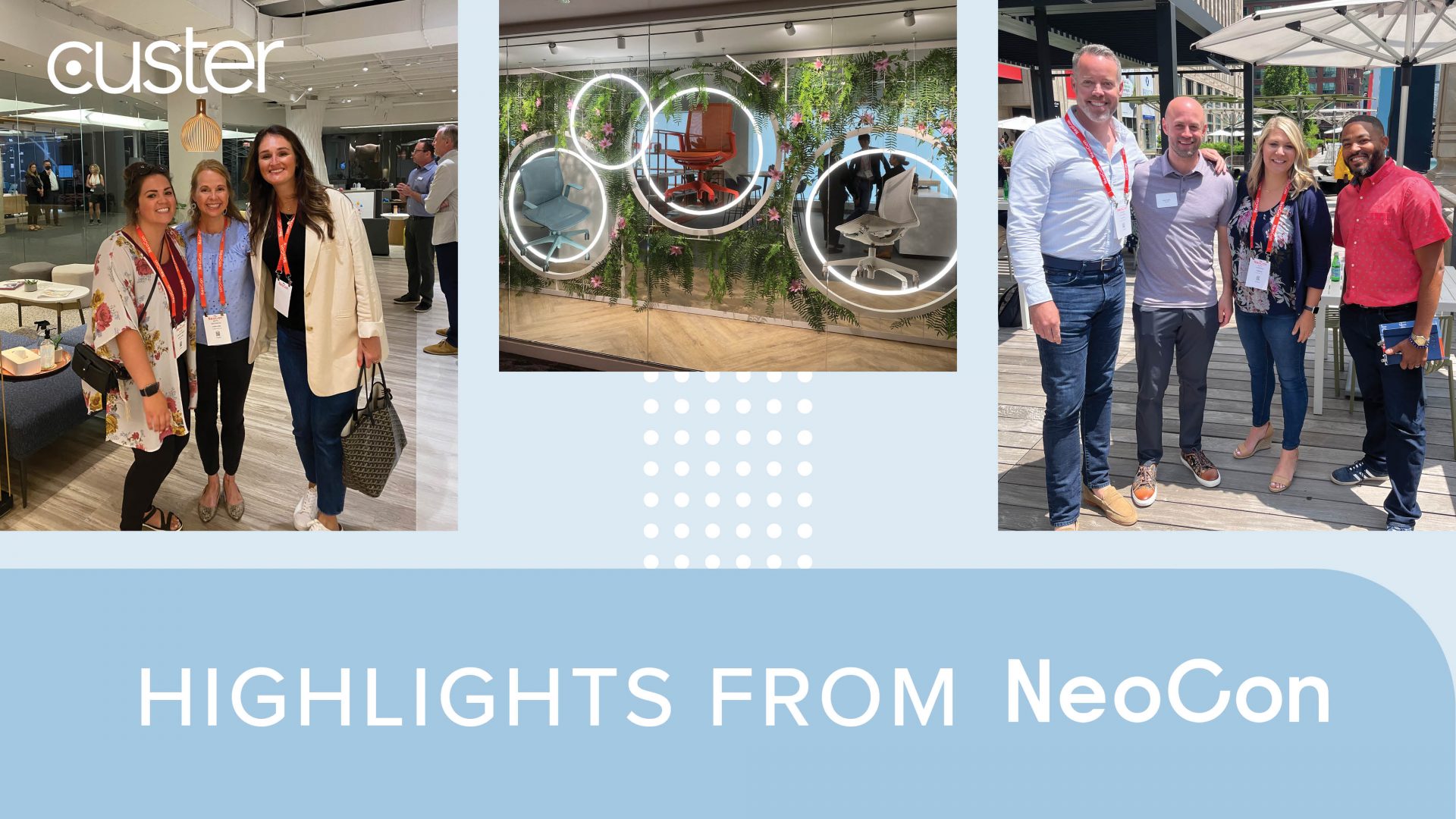 If one industry event could gauge whether or not a sense of normalcy is returning to corporate America since the days of the pandemic, it would be NeoCon–the world's leading platform and most significant event of the year for the commercial interior design industry since 1969.
After the event's hiatus in 2020 and the well-intentioned (albeit delayed) Fall show of 2021, we weren't sure what to expect from NeoCon this year. But our team here at Custer packed up our bags and set off on the voyage to Chicago–emotions in full swing and anticipation high.
Upon entering the Merchandise Mart, we were most excited to learn how manufacturer's products are creatively answering the call to support and inspire dwellers of professional spaces for this new era of the workplace that is undoubtedly upon us.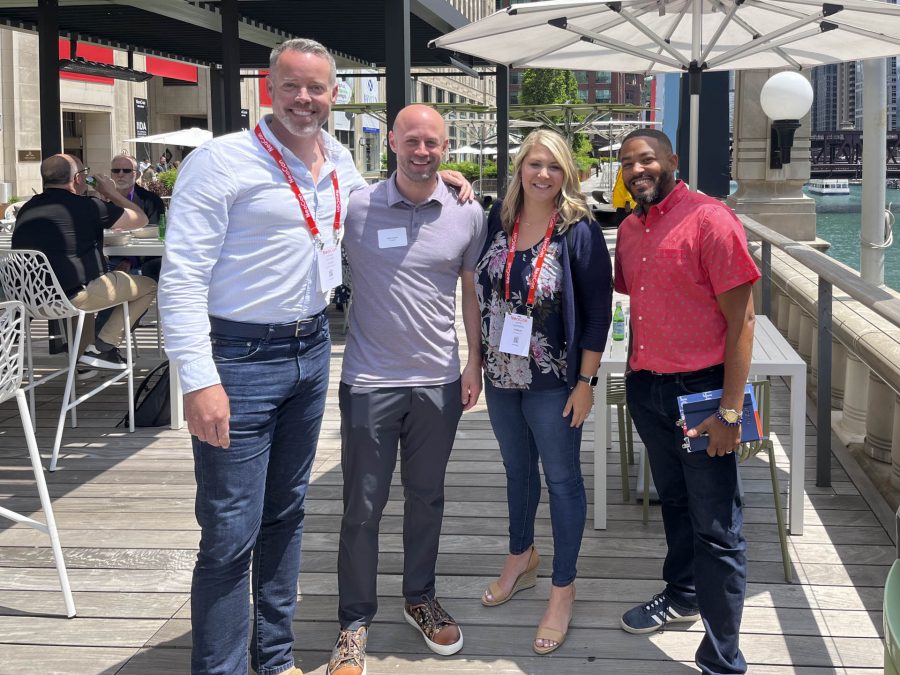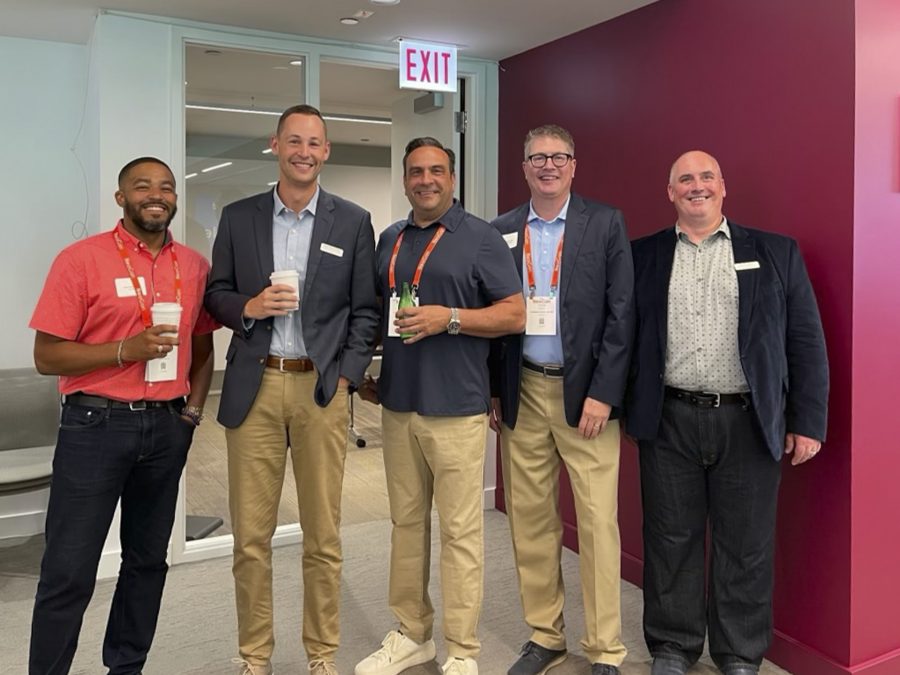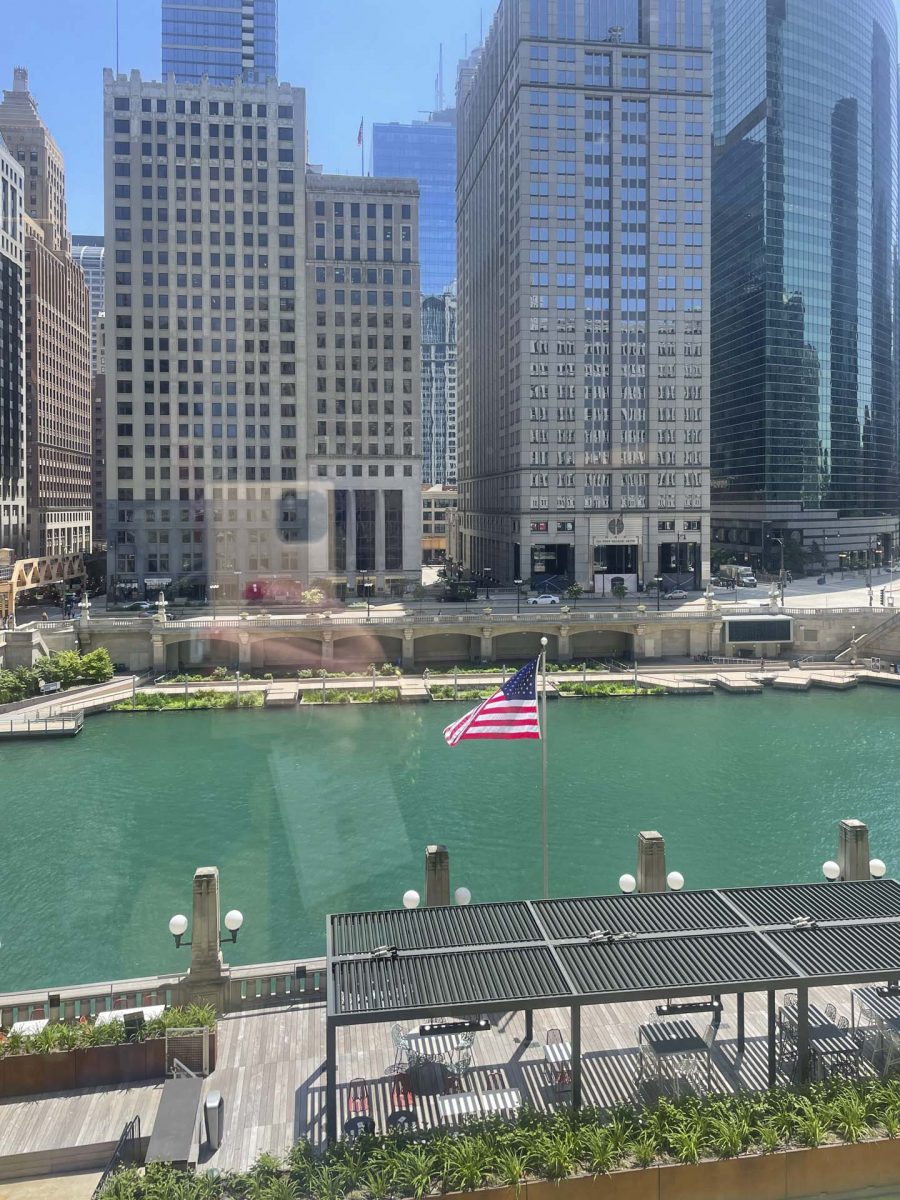 Here, we provide highlights from members of our team who were on site at NeoCon throughout the week–Nikki Probst, VP of Business Relations and Community Engagement, Jody Poole, NCIDQ VP of Design, Geoff McDaniel, VP of Business Development, and Jason Davies, VP of Custer Sales.
Our team was on the lookout for products that could solve the following needs of today's workforce.
Flexibility – More control and choice over how and where employees work
Productivity – Space to focus and space to collaborate
Comfort – The office is competing with home. The work environment should provide for overall wellbeing
Connection – Technology that supports equitable contribution to those who are remote
Here are some standout solutions that caught their attention.
Artful and original ceiling baffles. Any designer would dream of working with them to bring their vision to life. 100% recyclable PET felt never looked so good.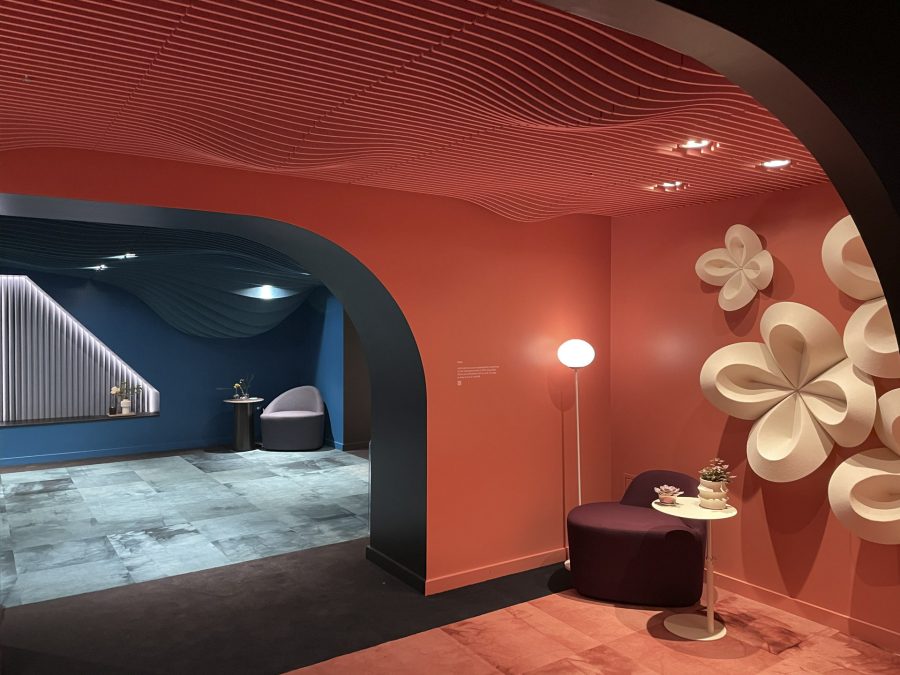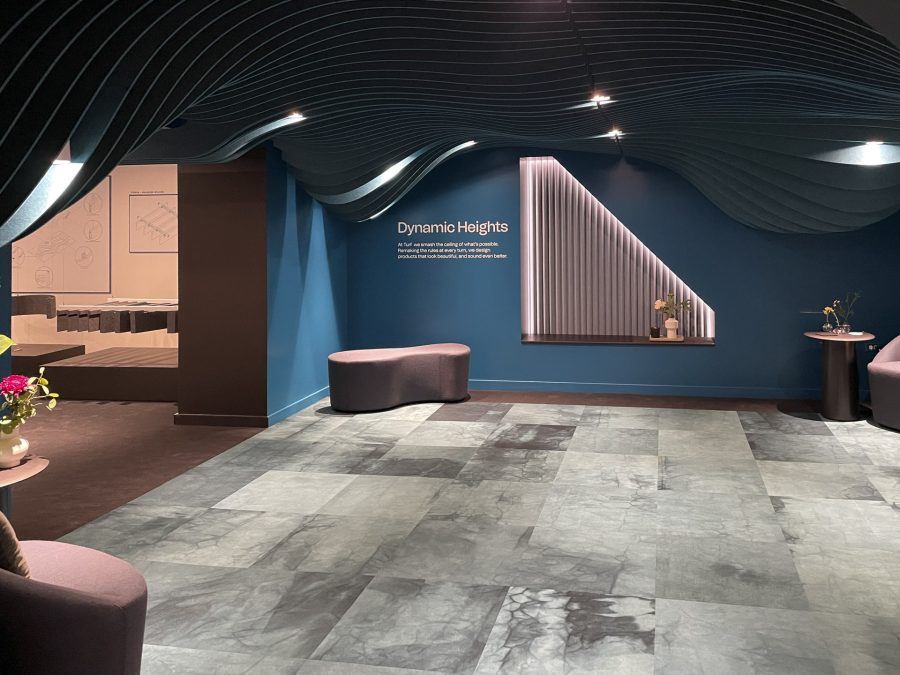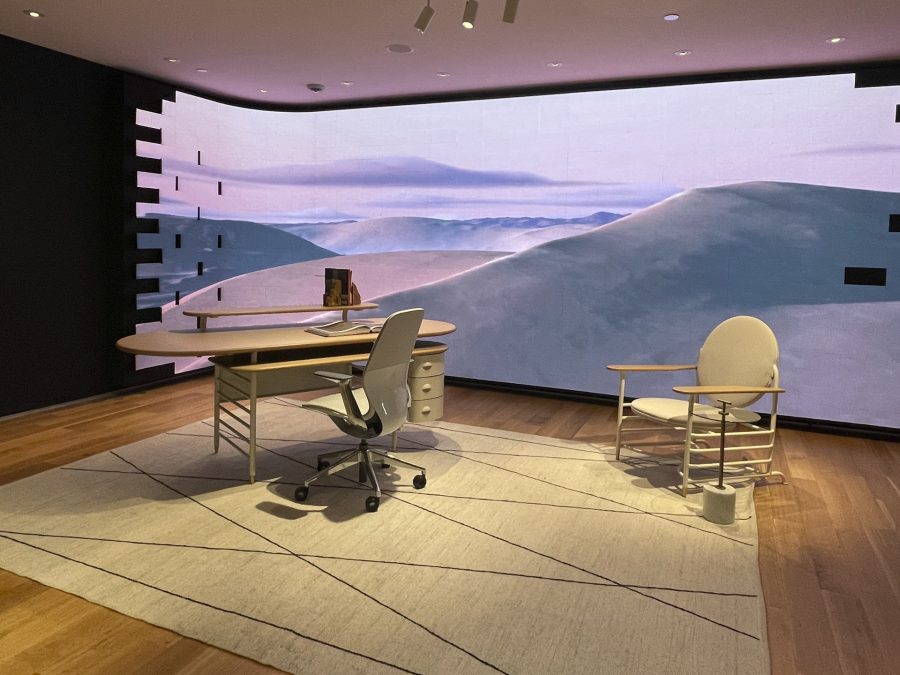 The Frank Lloyd Wright Foundation is partnering with Steelcase to launch a partnership to reintroduce Mr. Wright's famous designs and create new concepts in years to come.
This flexible kit of parts assembles into (wait for it) any structure you could dream up. Don't be fooled, this deceptively simple concept constructs into one of the most calming enclaves we've ever encountered. Just five classic geometric building blocks and a patented quick release joining system constructs into a fluid, flexible, and future-proof solution for a new approach to micro-architecture.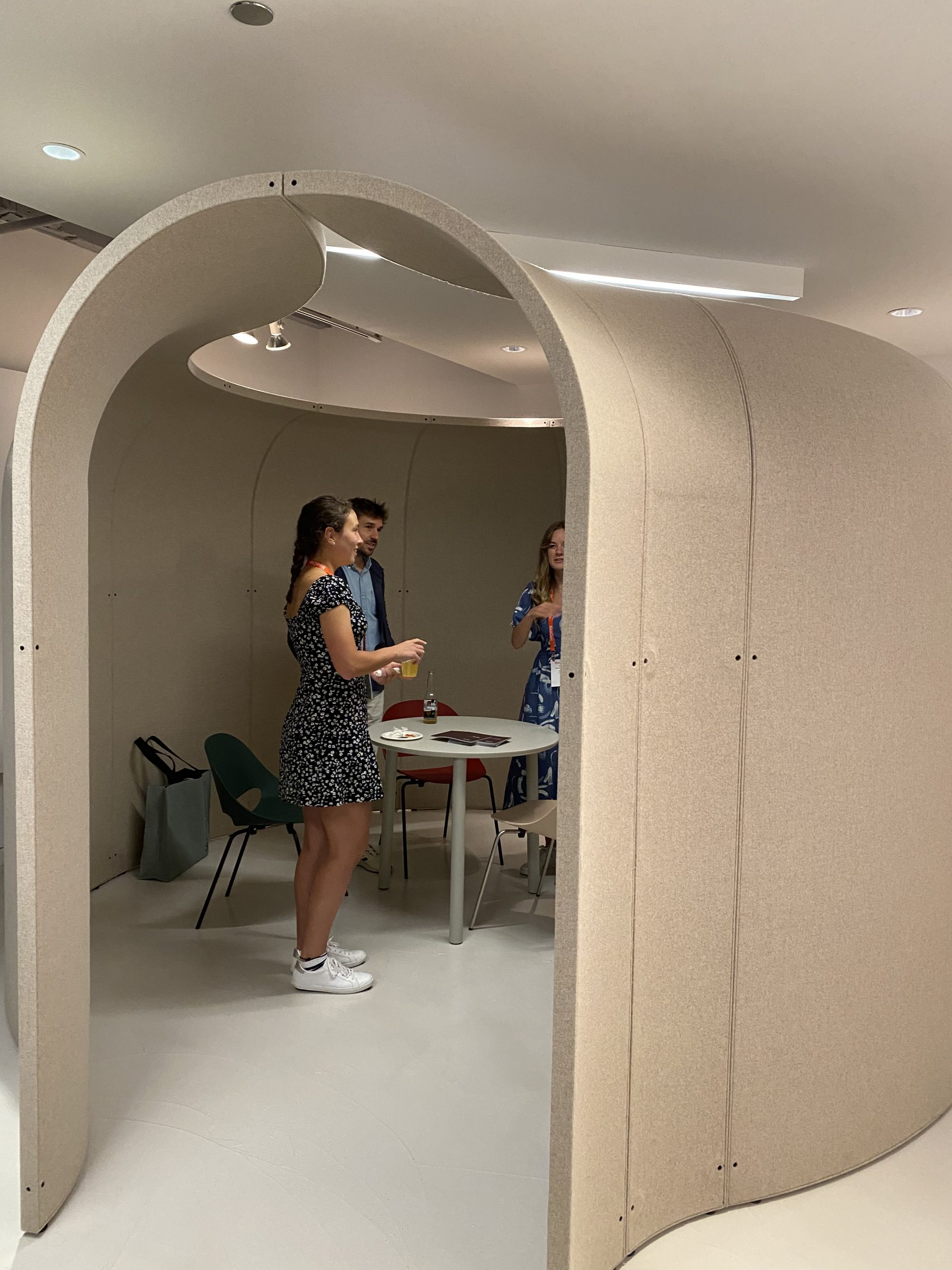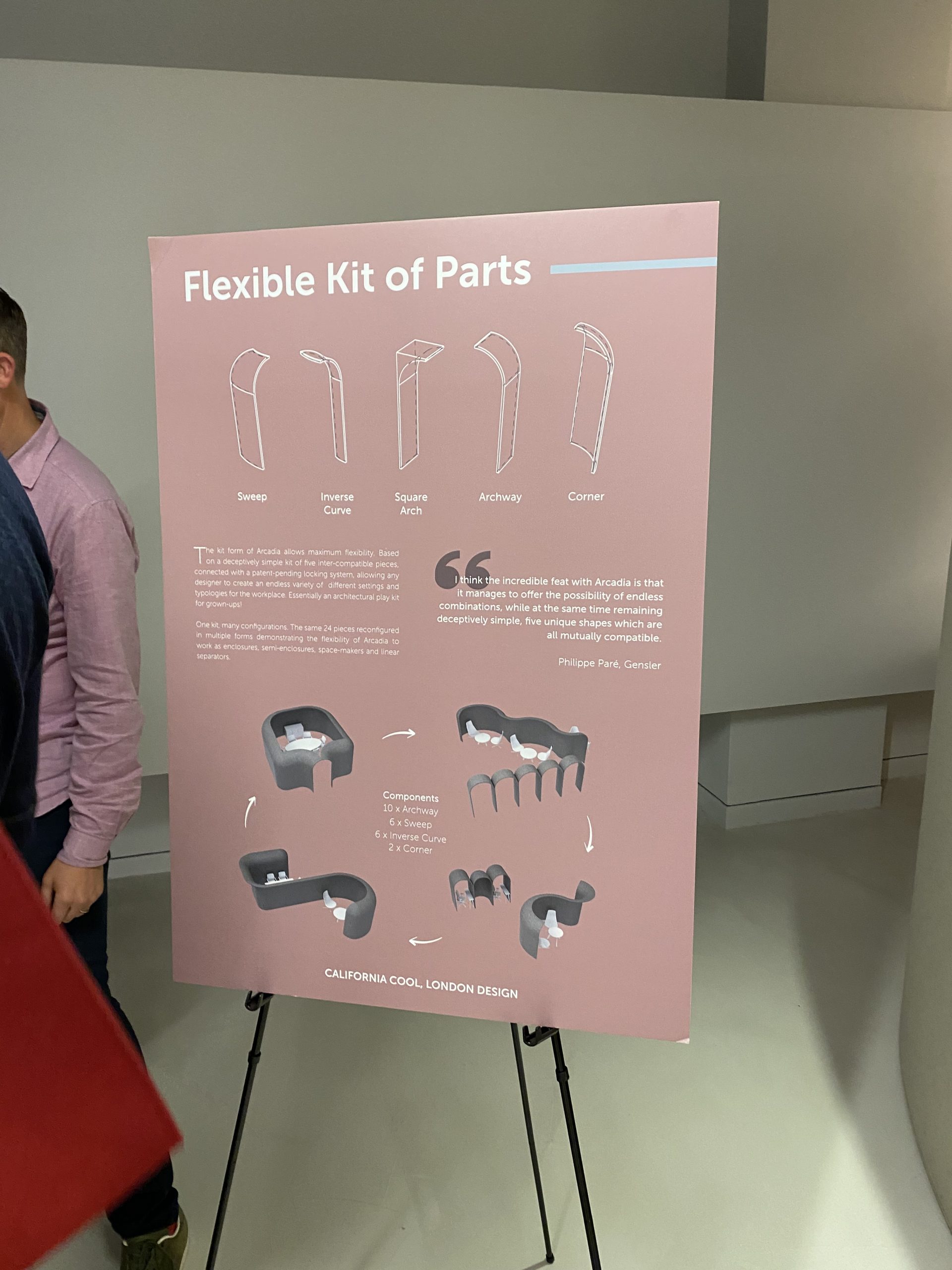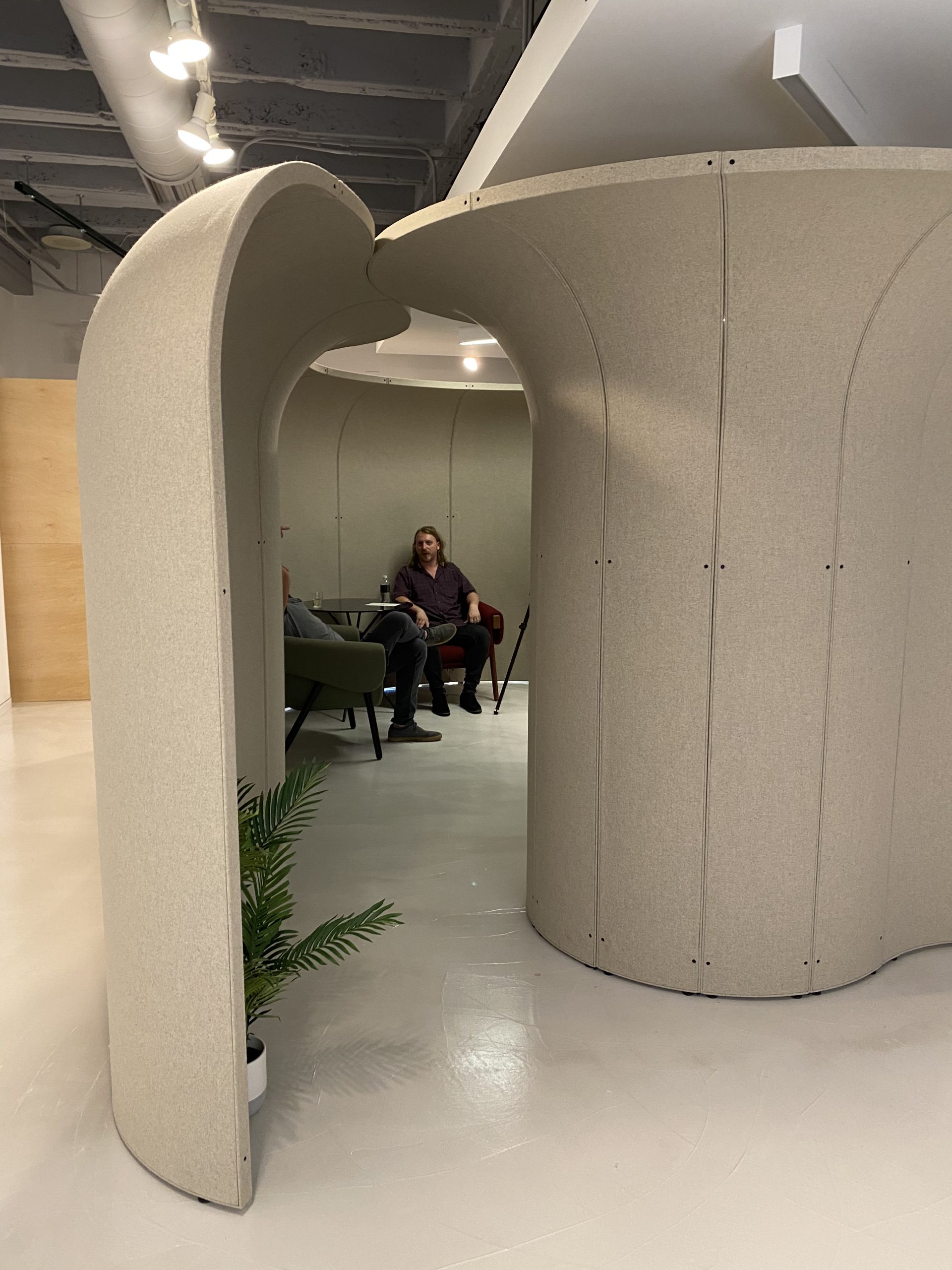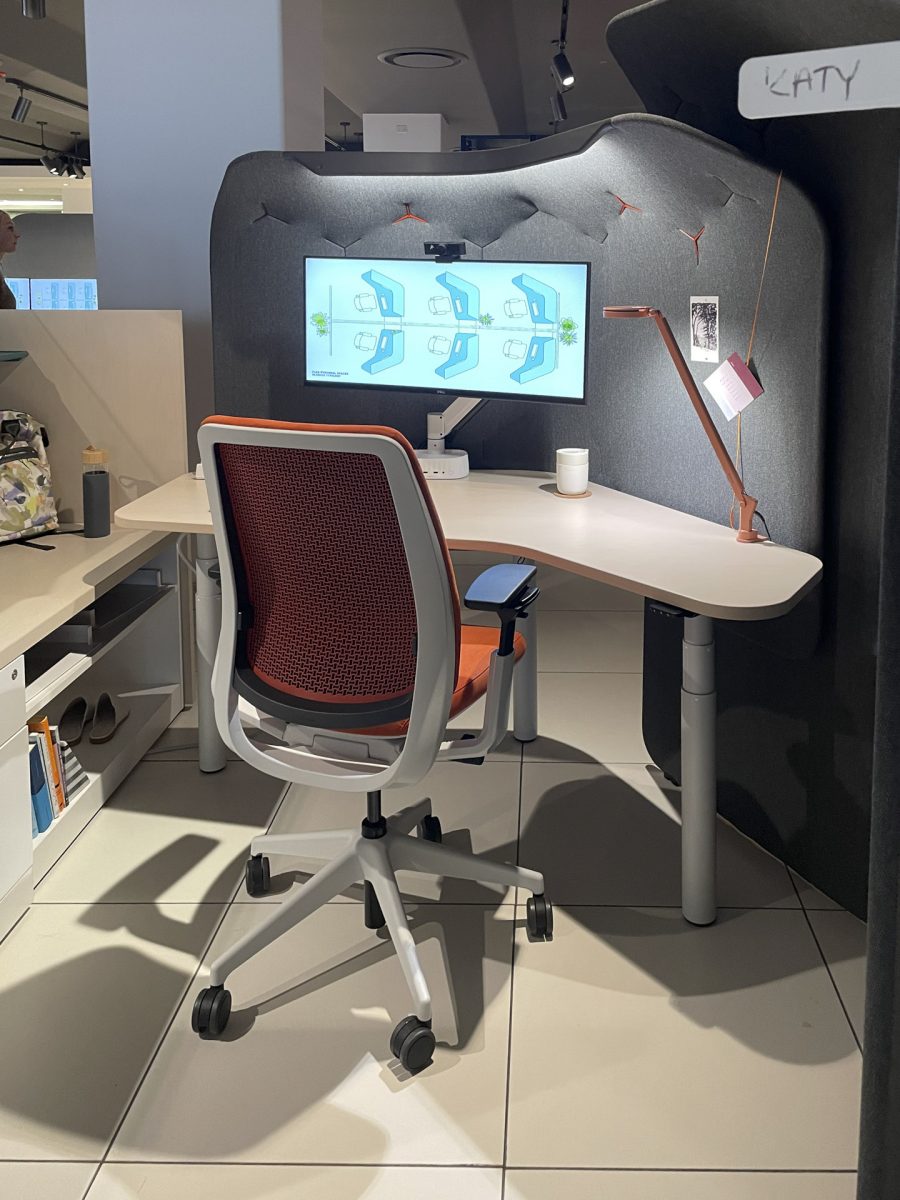 A continuation of the Flex line introduces a panel suited for an open desking environment. The curved shape, tufted interior, and soft lines of the panel are comforting while it also checks the boxes for acoustical and visual privacy and control in a hybrid workspace.
A comprehensive workstation that folds and transports where needed. It's a perfect application for quickly growing companies or hybrid worker environments. The adaptable system even features side privacy screens and whiteboard accessories for the collaboration. Height adjustable worksurface and integrated task lighting make this a fully functional, transformer of a desk.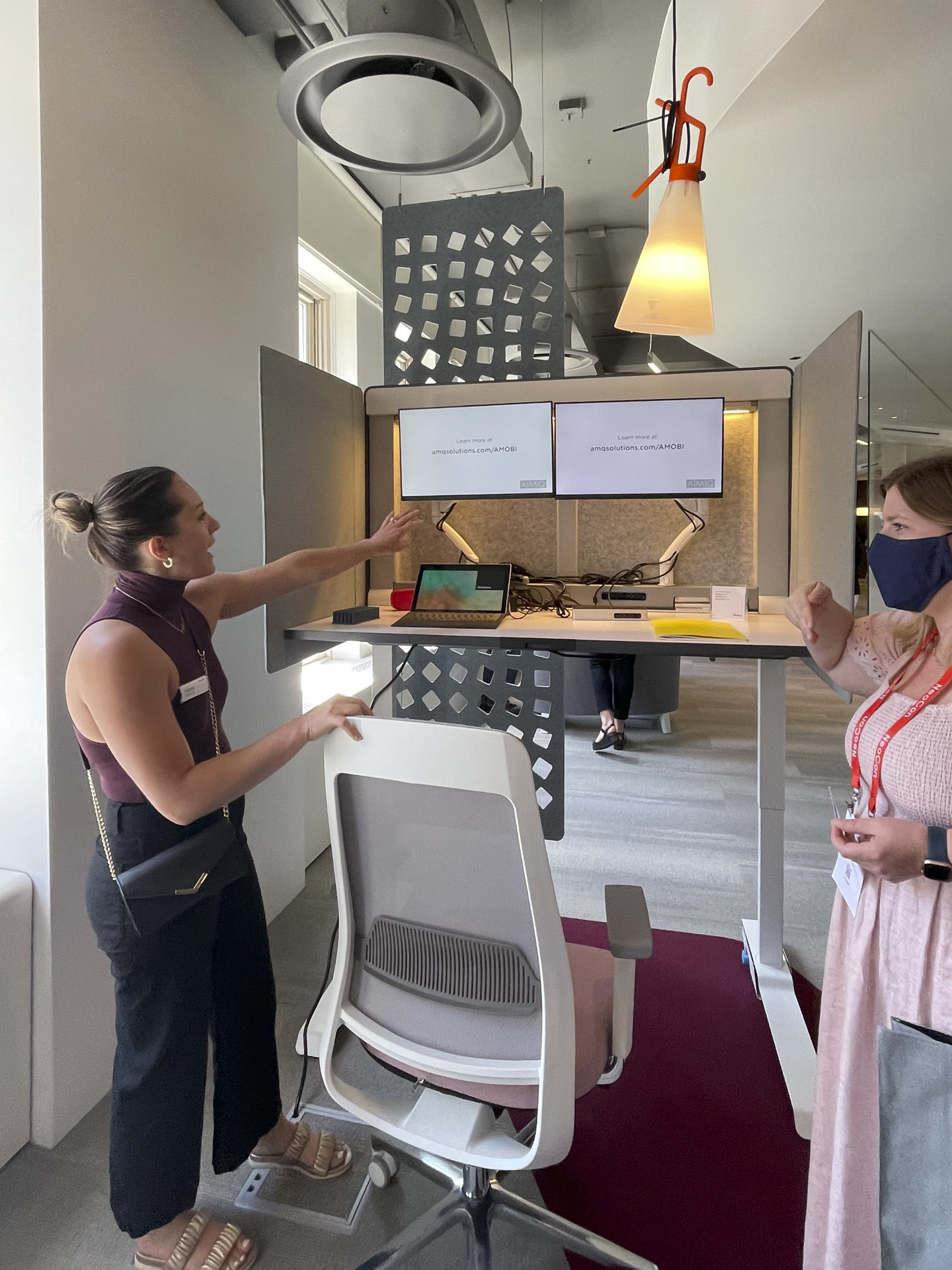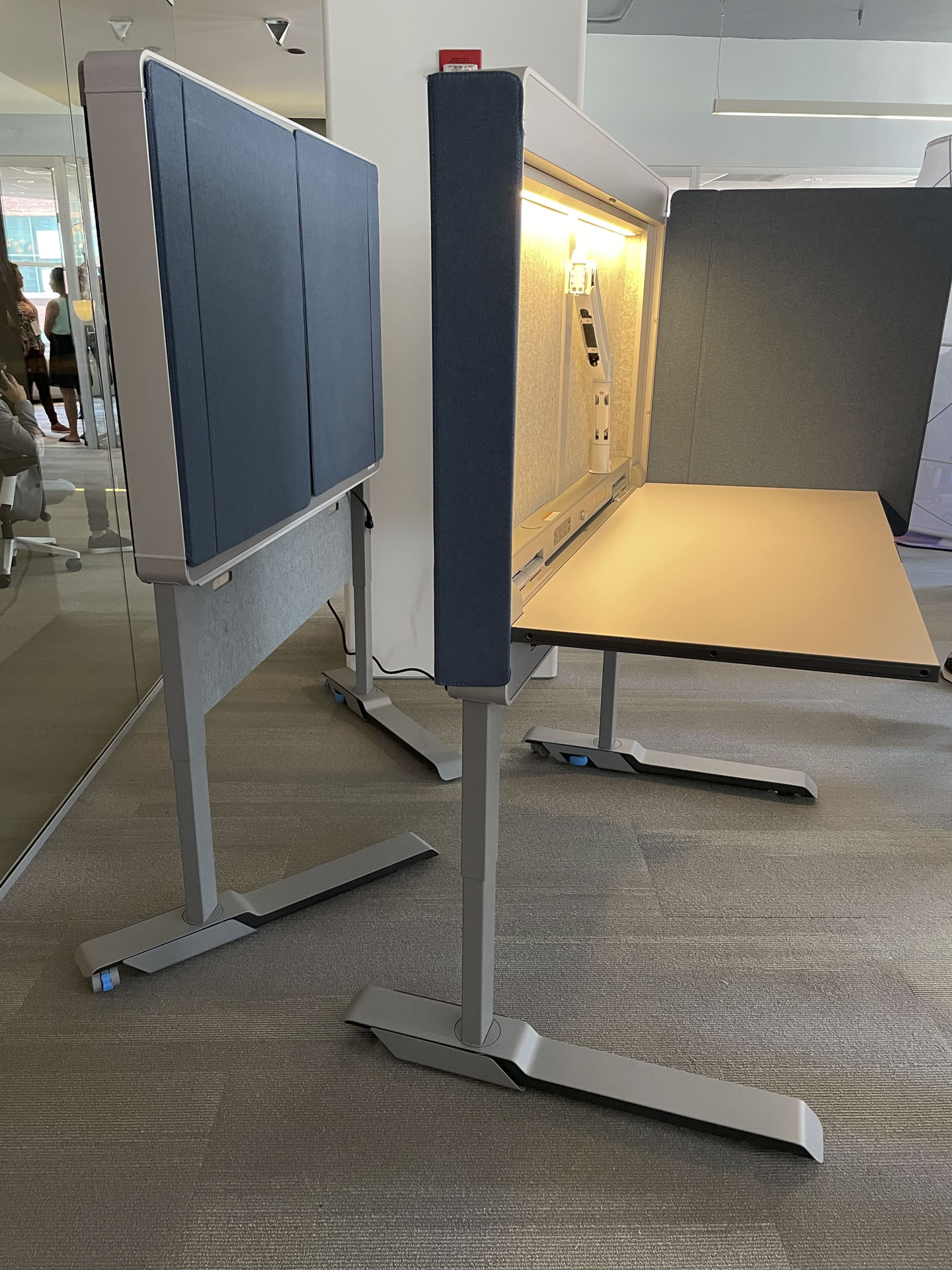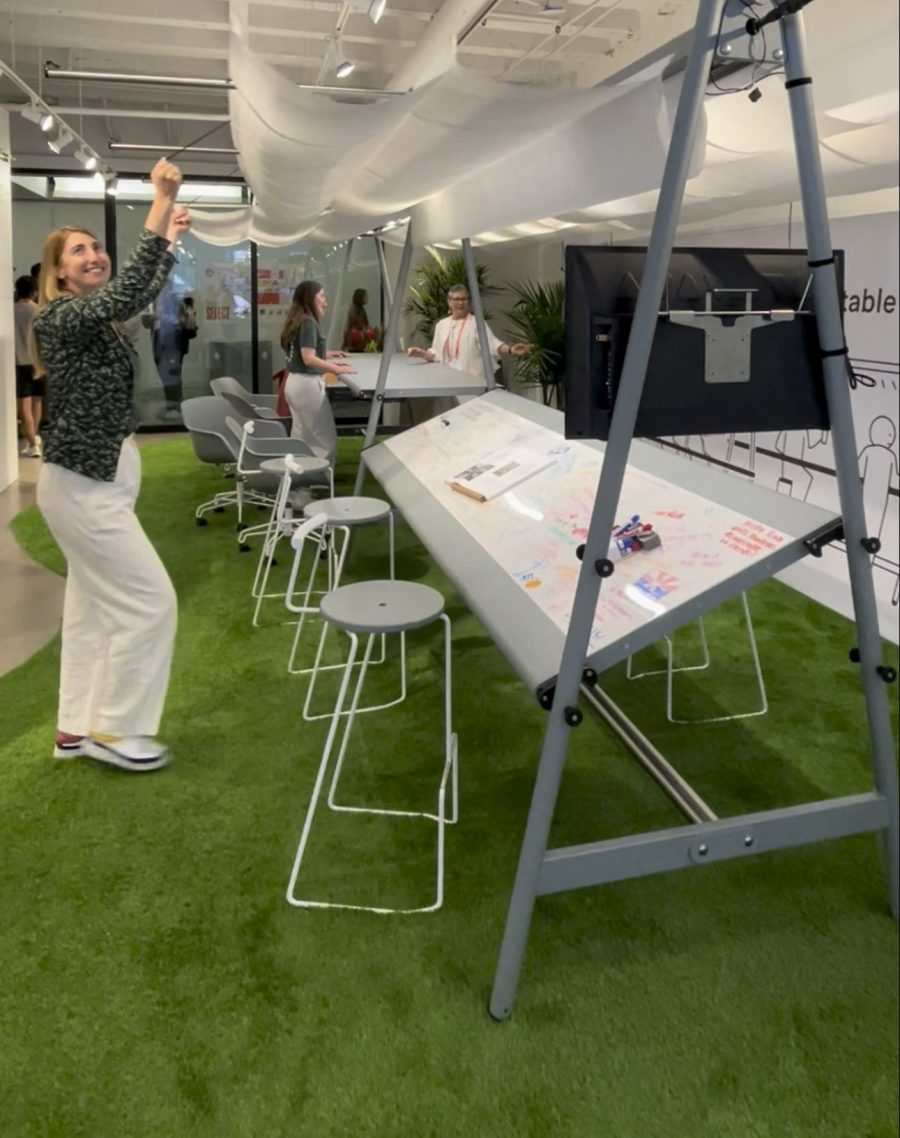 The Belgian design company knocks it out of the park with their picnic-style table that easily adapts from seated to standing height and features endless accessories–from power to monitor bars–to give users a collaborative haven under its simple shade.
Key elements of interior spaces that can often be overshadowed in the Babylon that is the commercial furniture industry are the unique accents and accessories that effortlessly bring cohesiveness to a space. Working with over 2,000 vetted artisans and creators, WESCOVER brings curated collections and one-of-a-kind pieces to the market for décor statements that are personal, made to last, and worth handing down to the next generation.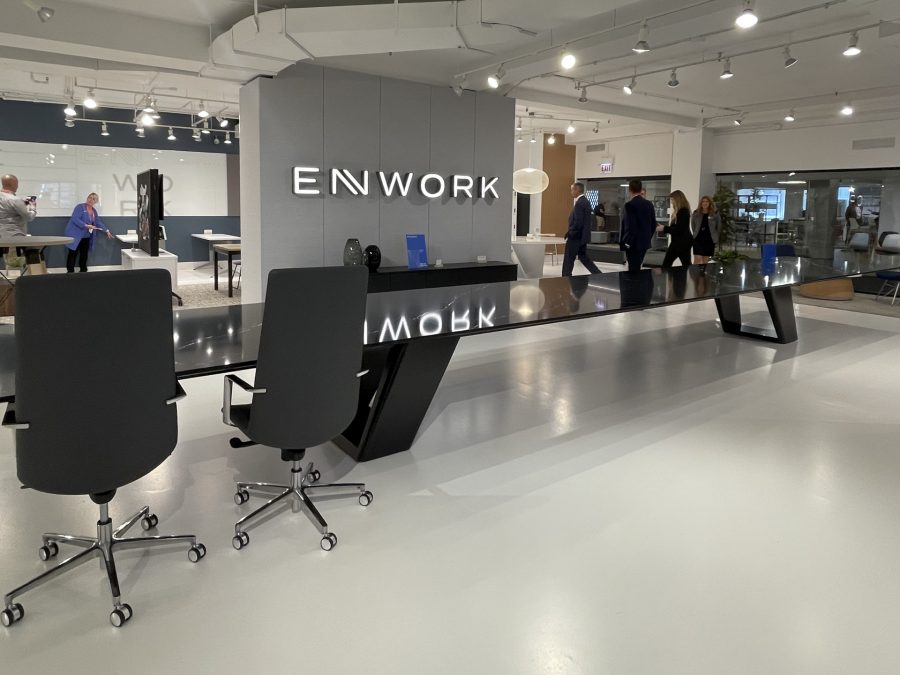 Spanning up to 36' on just two bases, and Halcon Helm (Best of Competition), fluid height adjustability with the touch of one very sleek button, brought it with their stunning tables collections.
We would be remiss not to note Steelcase's dedication to technology integration at this year's Neocon. Throughout the showroom, Steelcase paid special care to highlight partners such as Microsoft, Zoom, Logitech, and Crestron. Together, Steelcase and these tech industry leaders, showed visitors how to transform a corporate space into an inclusive hub where users can collaborate most effectively in a hybrid world.
So–the final word on NeoCon 2022? We are pleased to announce, without hesitation, that NeoCon is officially BACK–providing further emphasis to the rapidly evolving needs of employees that support flexibility, productivity, comfort, and connection in the workplace.
One thing we know for certain? The office is here to stay. Employees needs have changed, flexibility has become non-negotiable, but there is still a demand for PLACE.
Stay tuned for more coming this Fall around a brand new partnered approach to solutions that are unique to small business customers.