Custer Showroom | 217 Grandville
Take a Virtual Tour of Custer's Newly Remodeled Office
Published On: 
Oct 26, 2016
Designer:
Jody Poole, NCIDQ
Location
Grand Rapids, Michigan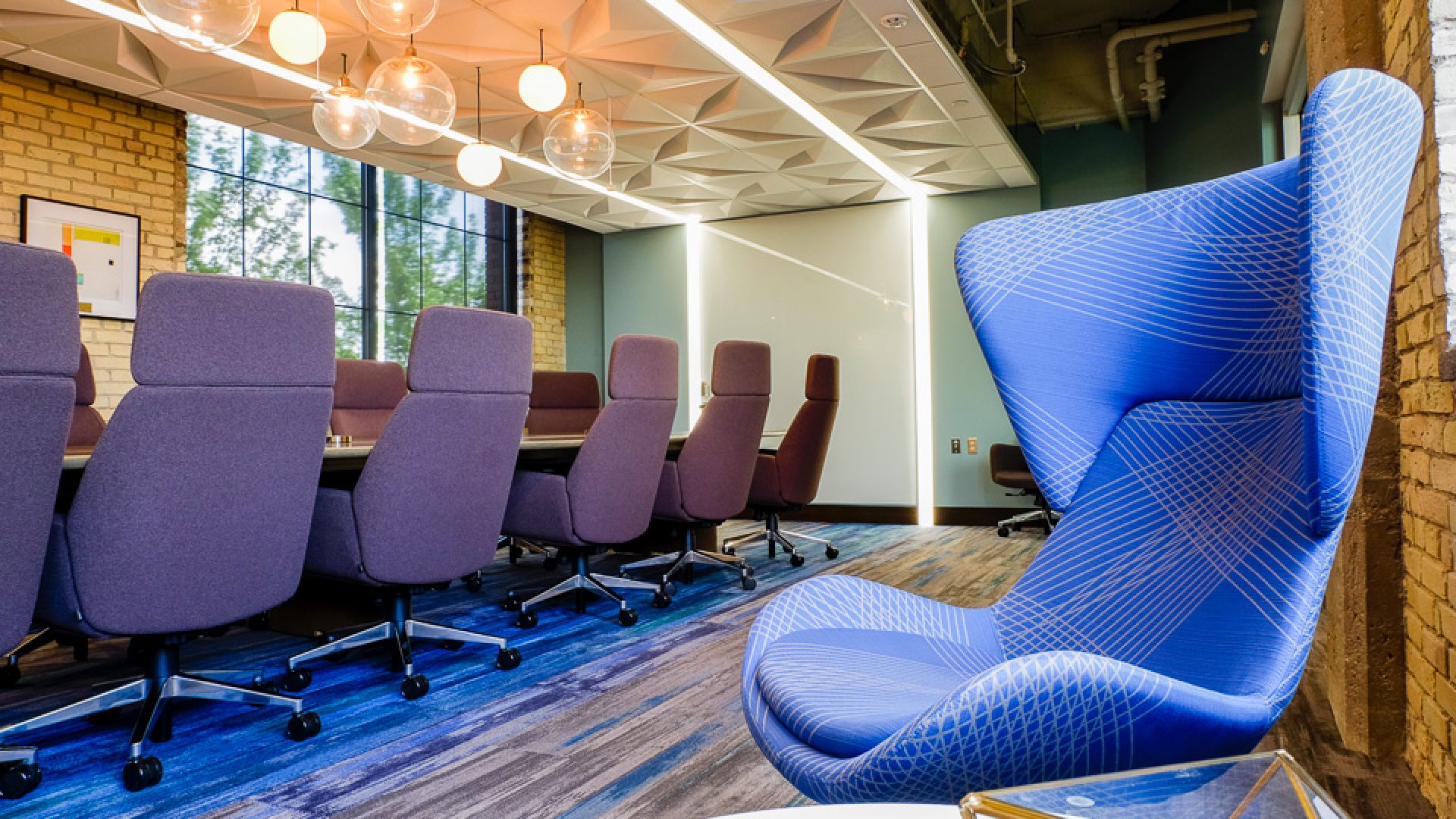 When we completed the first phase of our Custer showroom remodel last year,
our new living room space
became a shining example of our range of services.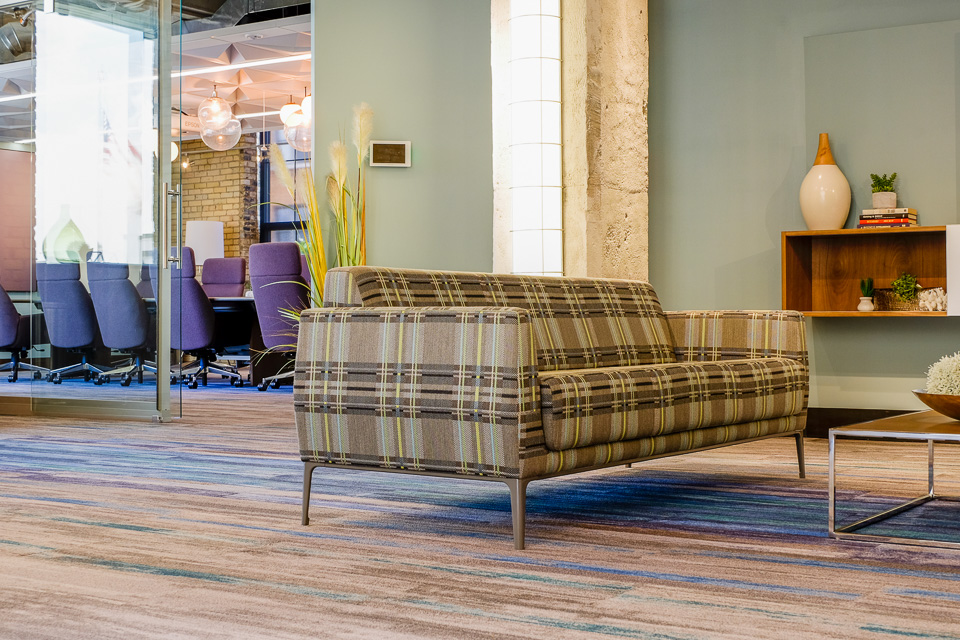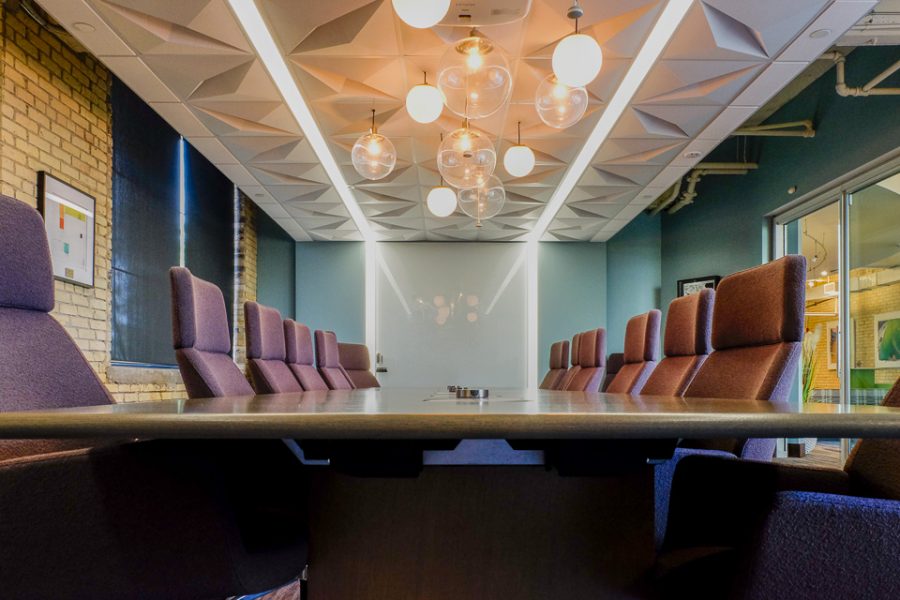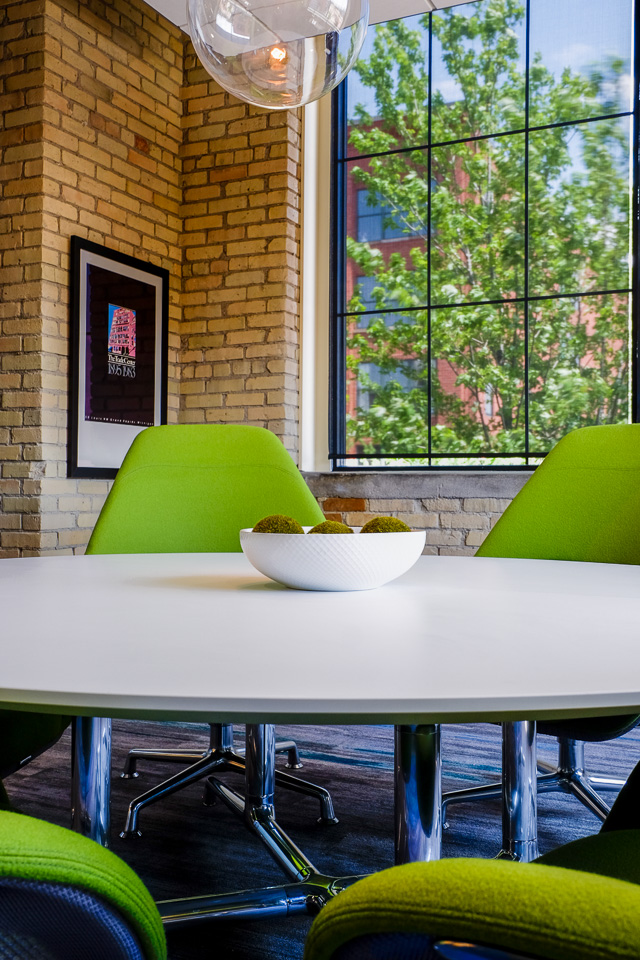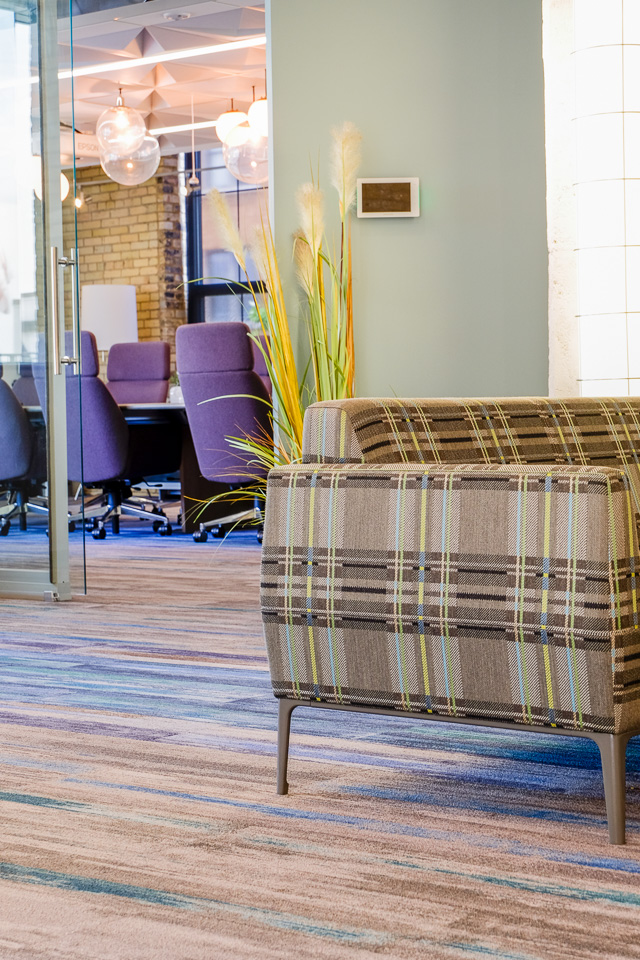 From the furniture to the flooring, custom millwork to electrical and data cabling, Custer completed the entire remodel. So when we set out to complete the second phase of our showroom update, our aspirations were similar: create a space entirely by and for our teams. This second phase, which is set on our second floor and includes meeting rooms, workstations, private and semi-private offices, and a design library, is distinct from its first floor counterpart, though. While the living room downstairs exhibits a polished and tailored finish, the upstairs area was design to reflect the creativity that it encourages.
At the core of the remodeled space sits the design library, which consists of multiple settings, meeting locations, and posture options, all allowing employees to work and create in ways that are unique to them. Project teams can spread out their work for days at a time on the large surface in the center of the library, and are able to meet and create concurrently without causing interruptions elsewhere in the office. In the custom-built storage units, material and finish samples are available for project selection, effective both for internal use and during customer visits. The library is also outfitted with unique technology, such as a 4K digital monitor and speakers in the ceiling. The entire design library was custom-built by Custer, including the trellis, sliding tables, storage cabinets, bookcase, and center surface.
The new space also offers a home for Custer's CEO, administrative staff, and Marketing and Strategic Alliances teams. With the open office setting, each employee benefits from access to the bright, east-facing windows. Additionally, each workspace reflects different workstyles and needs. The CEO's office and neighboring workstations required immediate adjacency to one another to allow for the employees to communicate with one another regularly. On the other side of the wall, the Marketing and Strategic Alliances teams benefit from height-adjustable workstations, ergonomic seating, and proximity to one another. Because the Marketing and Strategic Alliances teams are mobile, their workstations have minimal storage.
Nearby, Brody Worklounges by Steelcase create a micro-environment for employees, offering a private setting that also supports lounge seating. The Brody itself provides ergonomic support including an adjustable work surface to hold technology at eye level, reducing neck and shoulder strain, while also providing privacy and psychological security.
The remodeled space also features two meeting rooms. In the southwest corner, the Founders Room (named for its immediate view of our next door neighbors) offers a comfortable & bright meeting space for employees and guests with capabilities for video and audio conferencing, wireless projection, and more. Unlike other meeting rooms at Custer, the Founders Room offers a comfortable lounge posture. The height-adjustable X5 Touch PC mounted to the wall operates as its own device (like an iPad), featuring capabilities such as web-browsing and note taking. Users can also wirelessly connect their own devices to the display to share digital content. On the table, the Polycom Trio can be used to make calls either by dialing on the system or starting a call on a cell phone and connecting the call to the Polycom via Bluetooth.
On the north side of the second floor sits the Signature Room, which was designed to meet Custer's need for a large presentation and meeting room. Prior to renovating in 2016, this space was underutilized due to technology constraints. Now, the Signature Room allows for wireless presenting, plug-and-present hardwire connections, and sharing content from mobile devices. The room can also be adjusted with complete room control settings. Meetings are made most efficient with the range of technology features. The wall mounted display absorbs light for a sharper image, and its back-lit LED lights change color based on meeting availability. Users can share content through the hardwire connections in the table or the ClickShare technology.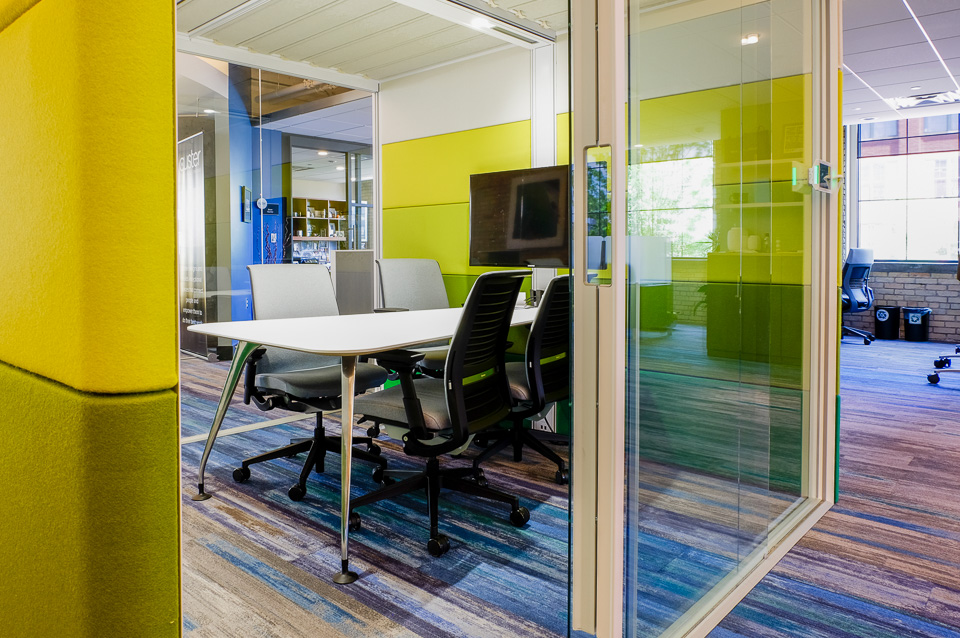 Designed to tell our story and support our diverse employees, Custer's newly remodeled space is an example of all that we can do. From custom-built interior architecture, to furniture, flooring, and technology, Custer can do it all.