Custer Hires Technology Consultant for Kalamazoo Office
Custer Hires Technology Consultant for Kalamazoo Office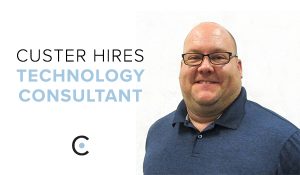 Custer Inc. today announced the addition of Jame Laymon who joins Custer's Kalamazoo office as a technology consultant. He will lead business development for Custer's technology department in Kalamazoo.
"Jame will play a vital role in expanding our presence across southern Michigan," said Custer President and COO Todd Custer. "His business development skills and strong background in technology make him a great fit for our growing Kalamazoo team."
Laymon comes from Stryker, a Michigan-based medical device company, where he was responsible for managing all of Stryker's global meeting and conference room technology. He brings 17 years of experience working in the technology industry, a strong customer service skill set and a broad range of knowledge and experience working with audio/visual equipment.
"I'm very familiar with Custer's integrated technology products and the high–quality customer service they are known for," said Laymon. "I love everything about Custer's brand, services and company culture, and I look forward to contributing to the growth of our Kalamazoo office through my business development role."
Custer's Kalamazoo office is located in the Haymarket Building in the heart of downtown Kalamazoo. Some of their recent projects include the Kalamazoo Community Foundation, Kellogg's, Family Health Center, Zeigler Motor Sports and The Fetzer Institute.
Custer offers full-service solutions including design, interior construction, integrated technology and furniture, and works with customers in corporate, small business, education and healthcare industries. Learn more about Custer at custerinc.com.
Questions? Contact our PR team.